Animal Exclusion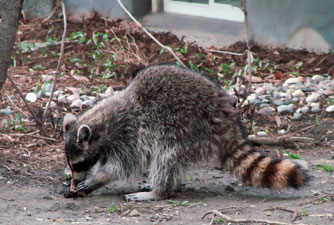 Front Range Pest Control of Fort Collins will inspect, fix and/or fill holes or voids where necessary, in order to keep rodents, birds, and other critters out of the home or commercial building. You deserve to feel secure in your home or business.
Exclusion Service is required to prevent animals from re-entering a residence or business. In addition, the entries that one animal makes can be expanded upon and used by other animals that were not previously there. It is important to eliminate these entries with reliable construction techniques.
Front Range Pest Control of Fort Collins takes great pride in our exclusion work. We make sure that entryways are completely covered and inaccessible to unwanted guests. In addition, we see to it that exclusions are as cosmetic as possible, tailoring shapes and colors of construction materials to match your home. We believe that the only thing that should be visible is your beautiful, pest-free home.
Even if you don't presently have an animal problem, we can help by preventing animals from getting into your home with a complete inspection of your home or business and animal proofing key areas of concern around your home. If you are a new homeowner or have just built a home this is a great consideration and a valuable investment with your home or business. It is much more cost effective for you to keep mice, rats, bats, raccoons, squirrels, and other nuisance animals from getting into your home in the first place than it is to clean up the costly mess and fix the damage once they've already entered.
Call (970) 203-1911 Today to Setup your Animal Exclusion Appointment!